Adipurush Theater Video: 'Adipurush', the multi-starrer film of 'Bahubali' actor Prabhas, has dominated the social media since this morning. Some people are praising the film fiercely, although most people seem upset with this film of Om Raut. All the videos and photos of 'Adipurush' from the theater are going viral on social media. In some videos, a monkey is seen watching a film, while in some places children are seen chanting Jai Shri Ram in the theatre.
Teacher's video going viral…
Amidst all this, a teacher's video is becoming quite viral. It is seen in this video that school children have been brought to watch the first day first show of 'Adipurush'. In the video, you can see that the children wearing glasses are enjoying the film while sitting on the chair, while their teacher is coming down with the idol of Hanuman ji in her hand. The teacher brings down the idol of God with full dedication, makes him sit on the first chair and touches his feet. But while doing this, a mistake has been made by the teacher, due to which people got angry on him.
Actually, it is seen in the video that the teacher is holding the idol of Hanuman ji in his hand but during this he is wearing sandals, and people are not liking this thing at all. People are calling it an insult to God and are raging on the teacher saying that she should have taken off her slippers.


See how people commented.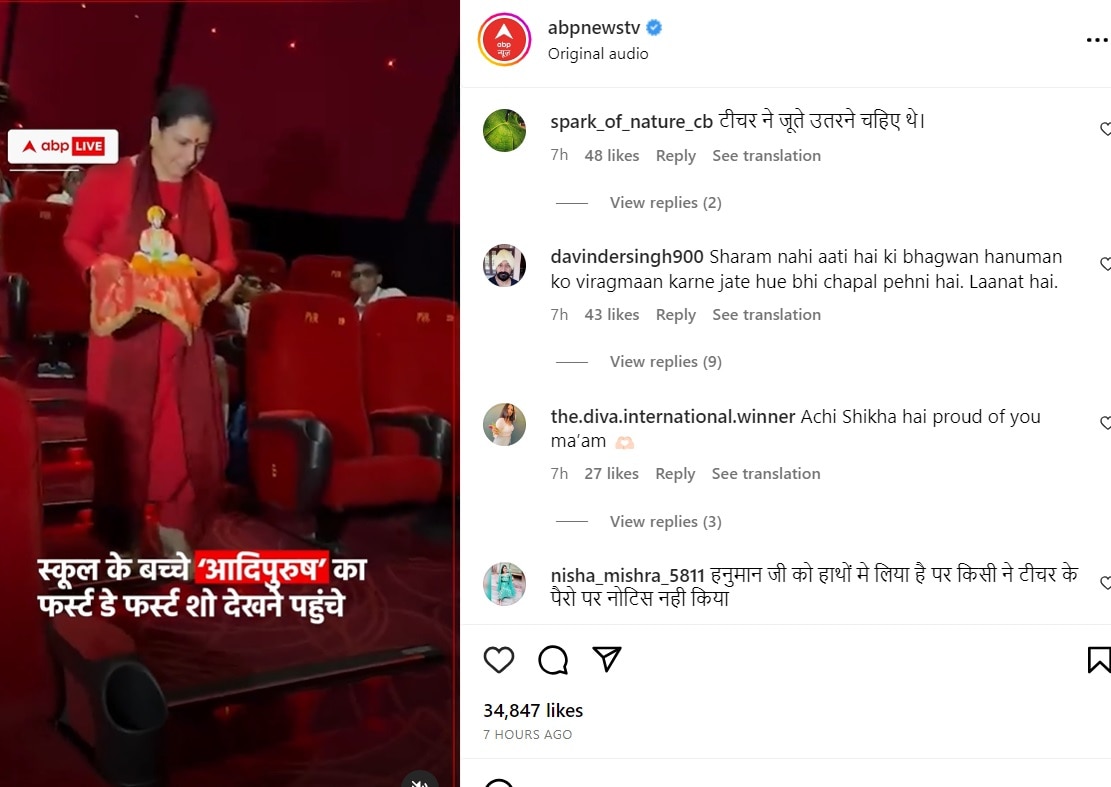 Adipurush is getting trolled…
Most people's reviews about Prabhas and Kriti Sanon's Adipurush are negative. If someone does not like Prabhas as Ram, then someone has objection to the dialogue of Hanuman ji. Questions are also being raised on the VFX of the film and people are calling it a bad portrayal of Ramayana.
#Adipursh Arey 🤦‍♂️troll stuff ayinde kada ra movie pic.twitter.com/ABPA622fr6

— ROY (@AbhinayRoy1818) June 16, 2023
Kya Jalegi uske baap ki yaar? What do you want? This sounds so vulgar 😭 How could Lord Hanuman use today's abusive language thousand years ago?#AdipurushReview #Adipursh https://t.co/o6lWSrdLQp

— Mission World Cup 23 (@rohancric947) June 16, 2023
Film stuck in legal quagmire…
Apart from being trolled on social media, 'Adipurush' is also stuck in legal tussle. A Hindu organization has expressed its displeasure towards the film. A public interest litigation has been filed against the film in the Delhi High Court on behalf of the Hindu Sena. The petitioner says that because of this film, Ramayana, Lord Shriram and the culture of the country are being mocked.
Adipurush's 'Laxman' started his acting career with TV, know how he got recognition in Bollywood