Aishwarya and Aaradhya Bachchan Spotted: Aishwarya Rai Bachchan was spotted at the Mumbai airport on Friday with husband Abhishek Bachchan and daughter Aaradhya. After which his airport appearance is going viral on social media. Although the fans are very angry with his look. Along with this, Aaradhya was also targeted at the airport. While Aaradhya's rituals are being praised for saying Namaste to paparazzi, on the other hand her look is being trolled a lot.
Aish-Aaradhya spotted at the airport
The daughter-in-law of the Bachchan family was spotted at the airport with Ash, Abhishek and Aaradhya. While Aish was seen in a full black outfit, Aaradhya was dressed in a hoodie and jeans. While Abhishek was seen wearing a cap with hoodie and jeans. During this, when Aaradhya left the airport, she greeted the paparazzi. Due to which their rituals are being praised, on the one hand Ash and Aaradhya are also facing trolling.


'Aaradhya is seen in the same hairstyle for 11 years'
In fact, ever since people have seen Aaradhya, she has been seen in the same look. Aaradhya's hairstyle never changed. In such a situation, when this time again she was spotted at the airport in the same hairstyle, she became the reason for people's displeasure. Users troll Ash for keeping the same hairstyle of his daughter. Now this time when the video of her airport look surfaced, she again came under attack.
Commenting on this video, a user wrote, '11 years have passed and I have not seen Aaradhya's forehead till date.' While another commented, 'Nothing is permanent except her hairstyle.' At the same time, a user trolled Ash's dressing sense and wrote, 'Aishwarya has lost her dressing sense in a few years.' Another commented, 'But seriously, I still don't understand her hair. Like she is trying to hide something and Abhishek is also looking strange.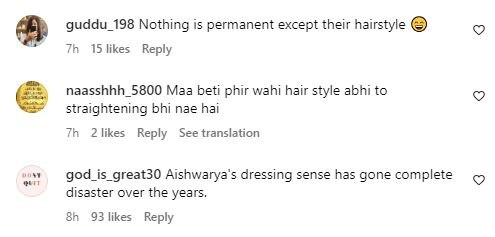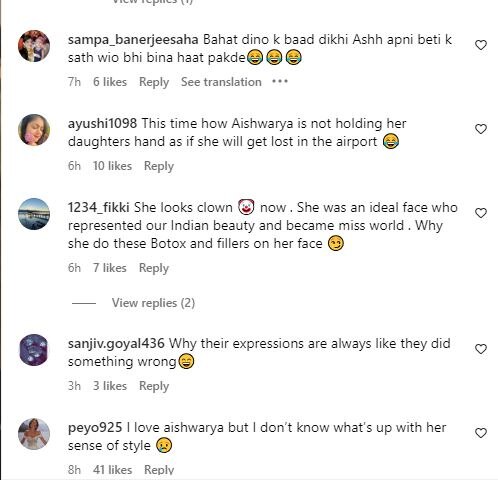 Users are making fun of holding Aaradhya's hand
At the same time, some users are also making fun of Ash for not holding Aaradhya's hand this time. Commenting on this, a user wrote, 'This time Aishwarya did not hold Aaradhya's hand.' Please tell that whenever Ash is in public, she is often seen holding Aaradhya's hand. In such a situation, this time when she was not seen holding Aaradhya's hand, she got trolled.
Also read: What happened in this episode of Ramayan that the world record was broken, this history was created in lockdown