Navya Naveli Nanda Video: Amitabh Bachchan's granddaughter Navya Naveli Nanda dominates the social media. Navya has not entered the film industry, yet she remains a fan favorite. Navya is a businesswoman and works for women. Along with this, podcasts of Navya also come. A video of Navya is going viral on social media in which she is talking in Hindi and talking about the welfare of the people. In this video, Navya is impressing people with her thinking along with her Hindi.
Navya has shared this video on social media. This video is the teaser of his interview. In which she is seen talking about the issue in Hindi.
Navya said this
Navya says in the video- One thing that I hear again and again is that you are very young. You don't have experience. So he always gets up, a question comes that, hey you are 25 years old. What experience do you have about life? So how can you work about these things. Healthcare, Legal Awareness, Domestic Violence.
Navya further says- I always think that what will happen to the world if I stop for 80 years to do something? At least 80 percent of the people in our country are of 20-30 years of age. What will happen to this generation if we all wait for 50 years to do something? What will happen to this generation? Who will bring the change? Nowadays, I feel that this new generation of children has come. He has so much knowledge at such a young age. So we should not underestimate because we are very capable today.
Users impressed by Navya's Hindi
Users have been impressed by seeing Navya speaking Hindi in the video. He is commenting a lot on his post. One user wrote- 'Navya's Hindi is very good. Keep up the good work like this. I do not understand those parents who do not teach Hindi to their children. On the other hand, another user wrote – 'This country needs such people very much'. Some people are taunting Bollywood. One user wrote – The only star kid who has a brain.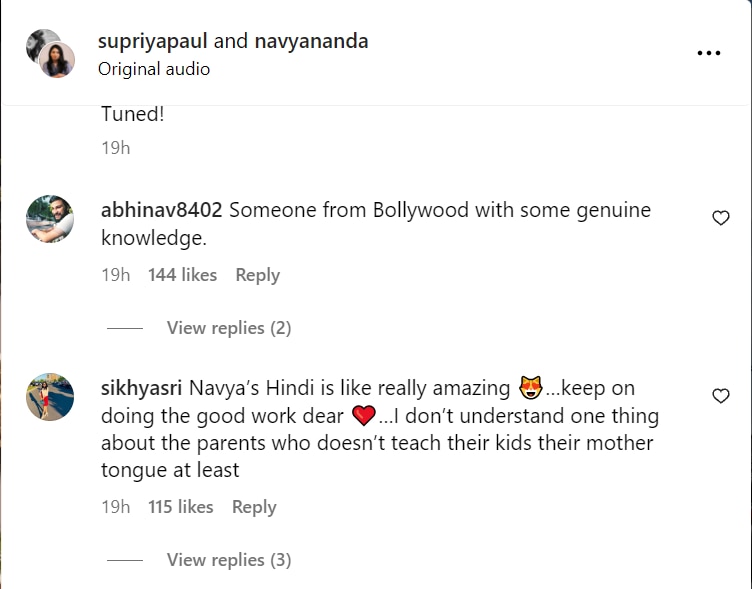 read this also: Rocky Aur Rani Kii Prem Kahaani Teaser: There is romance, there is celebration and there is also separation,… Shah Rukh Khan released the teaser of Ranveer-Alia's film.