Uorfi Javed Harassed: Although Urfi Javed is known for her looks, but this time something happened to her which surprised everyone. Actually Urfi was going from Mumbai to Goa, during this time a group of boys misbehaved with her in the flight. Urfi himself shared the information about this incident on his social media account. Urfi told that when all this happened with them, the boys were drunk and Urfi was traveling in economy class. Aka says that he is a public figure, it does not mean that he is a public property.
Comments made on Urfi in flight
Urfi Javed was spotted at the Mumbai airport on 20 July. She was going to Goa for the holidays. During this, she was also spotted in paparazzi's camera. During this, Urfi had kept the color of her hair pink. When Urfi reached the flight, a group of boys recognized her and started commenting on her. He shouted her name several times.
urfi shared video
Urfi Javed has shared a video on Insta Story. Some boys are visible in this. Urfi has written with the video, 'When I was going from Mumbai to Goa yesterday, I had to face exploitation. In the video, these boys were talking dirty and molesting. He was taking my name. When I interrupted them, one of them said that his friends were drunk. Being drunk is no excuse to misbehave with a woman. I am a public figure, not a public property.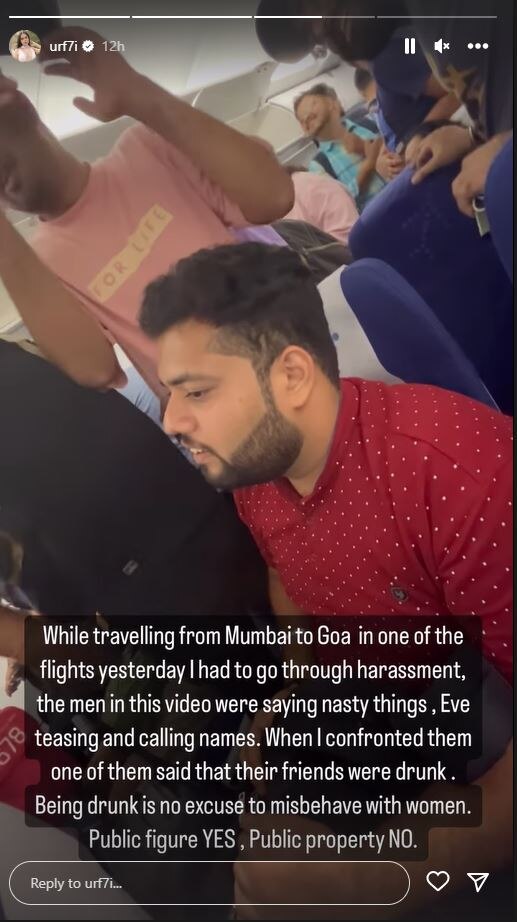 Also read: Armaan Malik Birthday: Armaan started getting music from the age of four, sang the first song for Big B